Home slider










Ivelin Kamburov, ACCA, CFO and Board of Directors Member of Credissimo AD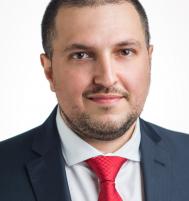 Ivelin Kamburov is the CFO and Board of Directors Member of Credissimo AD – a leading European FinTech company, market leader in online consumer financing, focused on the development and implementation of innovative financial solutions and related technologies.
Mr. Kamburov has previous experience in the banking and financial services sector where he held senior positions in the field of management information, financial and regulatory reporting, IFRS methodology and group consolidations. He has also participated in the Audit Committee of a Bank.
His professional experience is complemented with Big 4 companies in Bulgaria and abroad, where he held various positions in the departments for external audit of financial institutions, wherehis clients were mainly banks, pension funds, asset management companies and funds, leasing and factoring companies, consumer finance companies.
Mr. Kamburov holds the internationally recognized ACCA qualification and is member of The Association of Chartered Certified Accountants, UK.He has been awarded "CFO of the Year 2016", Liquidity and Risk Category, in the contest organized by EY and the Forbes Magazine.