Home slider










Kalin Metodiev, MBA, CFA, Chairman of the Managing Board, CFA Society Bulgaria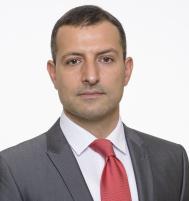 Kalin Metodiev is an investment banker and adviser in the fields of corporate finance and M&A. Kalin's career commenced 20 years ago in private wealth and portfolio management in the US, where he worked as a Financial Advisor for Prudential Securities and as a Regional Financial Planner for Metlife Securities. Following his return to Bulgaria in 2005, he was Director of Investments and Portfolio Management for Allianz Bank Bulgaria, Head of Sales and Private Banking for TBI Asset Management, and Executive Director of Karoll Investment.
Kalin Metodiev currently runs an investment banking practice, focused on securities issuance, as well as on corporate finance and M&A advisory services.
Kalin is a Chartered Financial Analyst (CFA) and currently serves as the Chairman of the Managing Board of CFA Society Bulgaria.